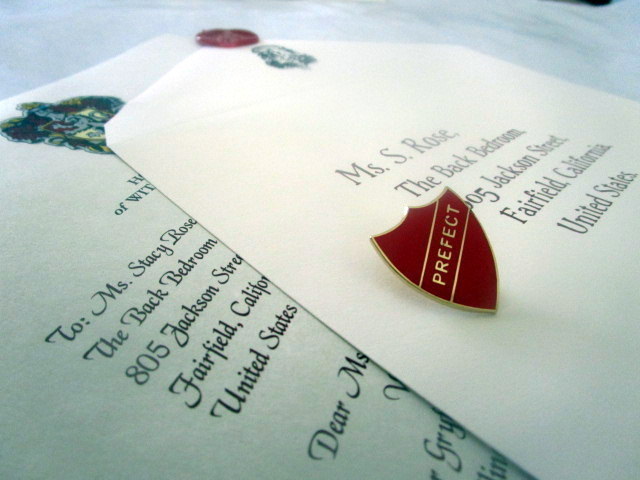 Wizarding School Prefect Letter with Pins / Badges
SKU elf1061
Product Details
*This item requires a personalization form. Please submit one here:
Send your wizarding school students a letter from their Head of House proclaiming that they have been chosen to serve as Prefects! We have all four houses available with either red, blue, yellow, or green pins. You will choose the one you like on the personalization form. Each letter also comes with your choice of 1 or 2 enamel badges measuring 1 inch high in the house color. The first pin says "Prefect". It is exact in every way to the real Prefect pins from schools in the United Kingdom. You should place this pin inside the letter. The second pin is just like the first, but says "Pinhead". You keep this pin and switch it for the real one whenever your students get a little too bossy. They will be scratching their heads trying to figure out how you changed the wording on their pins! Do you really know magic?
Moms and Dads, you may also add the "Proud Parent of a Prefect" bumper sticker to your package as described below:
You know all those school bumper stickers that say, "My child is an honor student at..." or "Proud Parent of Student of the Month at...", well I thought it would be fun to make one for parents of boy wizard fans! This one says, 'Proud Parent of a Prefect". Can't you just imagine this on a Ford Anglia?
Each bumper sticker measures 3 x 10 inches and is made of a synthetic material thinner, but stronger than vinyl. Bumper stickers typically last up to 2 years outside in normal weather conditions, and can last up to 7 years if garaged. They are removable with soapy water or Goo Gone.
International customers, please note that this item can not ship at the International Envelope rate. Please select a package rate at check out.
Save this product for later